Vacuum press machine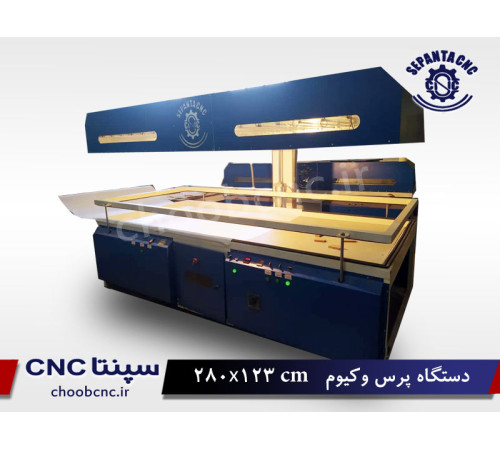 ٍُSepanta Membrane Press vaccum machine
Wood vacuum press machine, which is also known as membrane vacuum press or MDF press, is used to cover all types of raw or milled sheets of wood, chipboard and MDF with pvc, leather, etc. coatings.
This device is also known as membrane vacuum press and the word membranes is a type of coating with the same name.
Spanta CNC manufacturer of vacuum presses with a 1 year unconditional warranty.
For easy contact with us, click on the numbers below
Sale office:
Sales Manager:
WhatsApp Online Consultant:
Address: No. 112- Fajr 9 – Shahid Dehghan Boulevard – Jafarabad – Mohammadshahr - Karaj - Iran

The most common use of these devices is in the cabinet making industry, tables and chairs, etc. MDF sheets do not look good when machined by cnc machine and drawing, and use veneer to smooth smooth surfaces with milling parts.
This machine sticks the desired coating on the work surface by applying heat, pressure and suction. Of course, you should keep in mind that some coatings do not contain adhesives and the work surface should be evenly impregnated with glue before coating and then the coating should be placed on the work surface.
Types of vacuum presses:
Elevator vacuum press

Rail Vacuum Press

Box vacuum press
Usually, the door part of the machine has a tray equipped with electrical elements that heat the press door and a vacuum pump is located under the machine.
The vacuum press machine can be used to shape wood and its veneer at the same time, which requires the use of a mold tray on the floor and door of the table.
Operation video of Spanta CNC elevator vacuum press machine
---
Showing 1 to 1 of 1 (1 Pages)